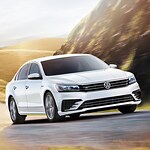 The Volkswagen Passat is a popular mid-sized sedan with technological features that enhance the driver and passenger experience. From entertainment delights to driver and passenger safety elements, the time you spend on the road will be both convenient and enjoyable.
Control the entertainment experience in your Volkswagen Passat using the 6.3 inch touchscreen. The audiovisual system also operates with voice control. It's compatible with Android Auto and Apple's CarPlay app. Connect the system to your smartphone to listen to your favorite tunes or to program in your destination. The suite of driver safety tech features includes adaptive cruise control, the blind spot monitoring system, lane assist and light assist. Light assist automatically turns on the brightest beam setting when you're traveling on dark roads. Lane assist prevents you from accidentally drifting when you haven't turned on the turn signal.
Here at Burdick Volkswagen, you can take the Volkswagen Passat for a test drive.