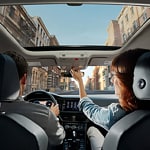 The Volkswagen Jetta has been known as a sporty vehicle on the road and continues to mesmerize those who see the car with the sporty design features from the inside to the exterior of the car. Although there's 228 hp behind the Jetta, you'll still have the handling that you need while driving in Cicero. The suspension has multiple links for a smooth ride, and the Start/Stop technology allows for keeping you safe on the road when you need to come to a stop with ease.
Front and rear bumpers on the Jetta have a sporty design that makes the car stand out. The grille is designed in a honeycomb fashion. A dual exhaust delivers the sound that you are likely accustomed to hearing from vehicles of similar designs.
An anniversary design features black trim on the spoiler and red stitching inside the vehicle. A red stripe can be seen around the outer rim of the anniversary trim design. Burdick Volkswagen can discuss customizing the rims and changing the size of the wheels before you drive the car off the lot.