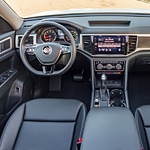 Every driver looks for something different in a vehicle, but those who are all about technology often find the Volkswagen Atlas a great choice. This popular midsize family SUV has many of the technology features drivers crave, including cutting-edge safety features, exciting performance features and all the convenience features to keep you and your family happy. Stop at Burdick Volkswagen and allow us to show you the Atlas.
The Volkswagen Atlas offers many driver-assist features, such as Lane Keep, which helps you keep your vehicle in your own lane and prevents it from veering into another lane. Another feature, Blind Spot Monitor, monitors things surrounding your vehicle that you can't see due to the blind spot and sends you and alert of potential dangers.
Whether you're ready to purchase another vehicle or just enjoy car shopping, you really should come to our shop in Cicero and see the Volkswagen Atlas. While you're there, we'll set you up for a fun-filled test drive.