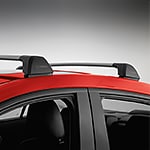 Roof racks offer additional storage space on your vehicle – storage space that can allow you to enjoy your travels a lot more. Although they're more commonly found on SUVs, roof racks can also be very helpful on cars. Our team at Burdick Volkswagen want you to be as informed as possible about not just your vehicle but also any accessories, such as roof racks, and how to use them correctly.
• Read and follow all instructions that came with your roof rack.
• Observe torque setting recommendations.
• Lubricate it for easier removal.
• Remove the rack when you're not using it.
• Allow for the extra height the roof rack adds to the vehicle.
• Observe weight limits
• Tie large items not just to the roof rack but also to the vehicle.
Do you need assistance with your roof rack? Do you have other automotive questions or concerns? Stop at our dealership in Cicero, and allow us to service your vehicle.